Calcoup in the Media
At Calcoup, sometimes we are called upon to think outside the knitted pattern. We love a challenge and believe it or not, we can program our machines to knit just about anything!
Over the years, we have had some interesting and exciting requests – from oversized beanies to 200 metre-long scarves! Not everything you see on TV is CGI, and seeing really is believing! So why not check out some of the exciting projects we have embarked upon recently, and if you have any enquiries or need us to help bring your knitted vision to life, please don't hesitate to contact us.
Click below:
Project Date: 03/2010
Project Agent: Robbers Dog
When Robbers Dog contacted Calcoup to help with the Butter Menthols campaign, recreating an instantly recognisable pattern such as the Butter Menthols tartan was only half of the challenge. Repeating this tartan for a pair of 40 metre scarves was to be the hardest part.
The customer required a rustic, handmade look so Calcoup used 5G machinery to create scarves that featured much larger stitches than a standard scarf. As a result, each 40 metre scarf weighed in excess of 25kg!
This attention to detail paid off, with the finished product taking centre stage in the commercial.
Project Date: 02/2008
Project Agent: 8commercials
When 8commercials contacted Calcoup to assist with a project for the Qantas Socceroos, we knew that the end product was going to be special. What we didn't realise was how iconic this commercial would turn out to be.
The vision was to create a scarf that stretched across the Australian landscape, wrapping it's way around landmarks and team supporters. The end result was not a simple case of CGI. In fact, the requirement was to be as authentic as possible.
Utilising our 10G knitting technology, Calcoup created two jacquard scarves, each measuring over 200 metres. Both scarves were knitted in one piece, and the weight of each scarf was immense!
In terms of fulfilling the brief, there can be no doubt Calcoup helped create a commercial that is both iconic and timeless.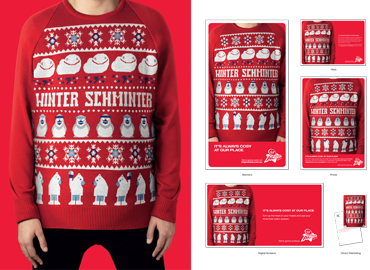 Project Date: 05/2010
Project Agent: Publicis Mojo
Publicis Mojo handed Calcoup a huge challenge with the 'Winter Schminter' project. The client required a jumper to be used for still photography which was to feature a pre-developed design. As the artwork was developed on a high-end program, the scale difference between artwork and knitted garment became an incredible obstacle.
Although Calcoup reduced the customer artwork by over 70%, the end garment was still gigantic at 1 metre wide! Using a variety of shots featuring plain garments and our jacquard pieces, the customer was able to piece together the perfect shot.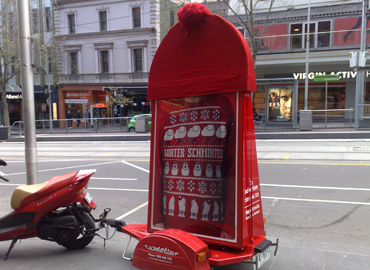 Project Date: 06/2010
Project Agent: Guerrilla Media
With the 'Winter Schminter' images developed, the campaign was ready to roll - literally! Billboards were developed for scooters to pull around the city. So what better way to compliment the project than with gigantic beanies?
Guerilla Media approached Calcoup to develop several beanies large enough to fit on top of the moving billboards. This was not an easy task considering each beanie had an internal circumference of 2.5 metres!
Calcoup worked with the customer to ensure that the knitted beanies fitted the billboards, but also designed internal structures to ensure the beanies could be fastened to the billboards and retain shape under transport.
These are quite possibly the warmest billboards ever...