Workwear Knitwear Range
The Calcoup Workwear Knitwear Range is built to last, be hardwearing and survive the rigors of the harsh outdoor environment in Australia. Whatever your line of business, if it's tough workwear knitwear you need, Calcoup can deliver.
Our Workwear Knitwear Range features an extensive selection of Men's and Ladies styles. From pullovers, vests and beanies complying with the latest OH&S standards to complex Military Nato & Secuity Patchwork styles, we will help you achieve the look you want and need for your staff uniforms and business.
All of our knitwear ranges are the culmination of extensive manufacturing experience and our deep knowledge of textiles and technology. The result is a range of optimum garments, which have been tried, tested and resoundingly approved.
Click below for more information on our Workwear Knitwear Range: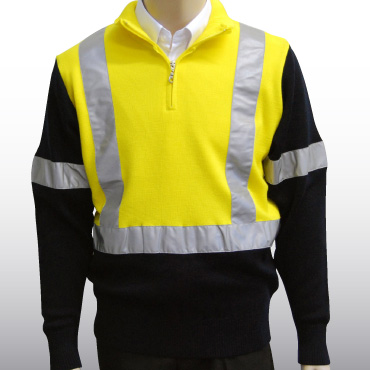 Available Blends:
100% Wool
80% Superwash Wool/20% Nylon
65% Polyester/35% Cotton
50% Cotton/50% Acrylic
100% Low Pill Acrylic
At Calcoup, we are very proud of the fact that all of our woolen garments meet the Merino Mark Australian Standards – your sign of quality Australian Merino Wool.
Our unique blend of 80% Superwash Wool and 20% Nylon has become an industry standard. This superior yarn blend is known for its softness, warmth, durability and ease of care, but also because it lacks the prickle and itch. In addition, our blend delivers outstanding results for colourfastness, shape retention and anti pilling.
Our Cotton/Acrylic and Polyester/Cotton yarn blends are perfect for those living in temperate climates throughout Australia, where more traditional wool garments may prove too warm. They are also an excellent hypoallergenic option for those who have wool allergies. They offer the same superior qualities as our wool blends, including great comfort and wearability.
Easy to look after, our 100% Low Pill Acrylic garments are machine washable, making them a favourite. They are also perfect for temperate climates where wool blends may be too warm.
From complex Nato Patchwork styles to 100% Wool OH&S requirements, Calcoup manufactures garments to fulfil specific tender requirements or the latest in Australian Standards.
Our dye to match capabilities ensure we can make garments that compliment existing uniform programs.
If you require embroidery on your garments, we can work with you on the design, positioning and layout.
At Calcoup, we are able to offer customers a huge selection of colours, as well as a colour matching service. For more information or to create a custom design, contact us.
Here is a just a selection of the many colours and colour combinations available (including High-Vis options):
At Calcoup, we offer a custom design service – so we can bring your knitwear vision to life. Design your own styles, or let our knitwear design consultant help you to put together garments to suit your needs and requirements.
Once your garment has been designed, we are able to provide samples so you can be assured it will look exactly how you want it to.
Your custom creations can be manufactured with fast turn around times at no extra cost.
To find out more about this service, please contact us.